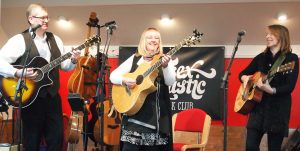 Noah's Cape  is a three piece folk band comprised of Linda Watkins, Marian Wedley and Mark Niel.  Three talented singer songwriters combine to deliver unique sets of traditional and original songs with innovative arrangements and trademark three-part harmonies.
Their songbook covers a wide range of material from embellished traditional folk to classic pop covers all delivered with verve, a poetic edge and wit. Each singer brings their own musical background and heritage to the mix including gospel, Celtic tradition, choirs and the minstrel / troubadour.
The current line up made their debut in 2018 and from a standing start, they have a busy diary with gigs at folk clubs, festivals and community events.
Quotes about Noah's Cape
"Great set from you guys on Tuesday"
"Harmonies were brill"
"Well played"
"Well worth noting in your diaries to see again whenever they are on".
"Lovely stuff".